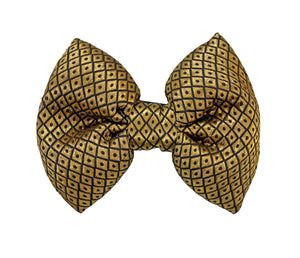 The Golden Black Diamond Pattern Brocade Bow is your go-to partywear pet accessory. This is the only bow tie you will ever need for your fur kid when you need to dress them for any special occasion. This golden Brocade bow with its perfect black dotted diamonds is apt for formal, semi-formal and even casual settings.
A great addition to your pet's Indian wear wardrobe, each Bow tie is designed and made with love, care and the best fabric and materials. It is lightweight, easy to put on and comfortable for your pet to wear all day. Doubt it? Purchase it and let your fur kid be a judge of it. if you're looking for Indian wear clothes for your pet, this is a great option!
All our bow ties are detachable, have a stretchable band at the back and can be put around a collar/harness of any size.
Each purchase helps sponsor meals for shelter animals.
Note: All our bow ties are unique, handmade with love and so pattern placement may vary.