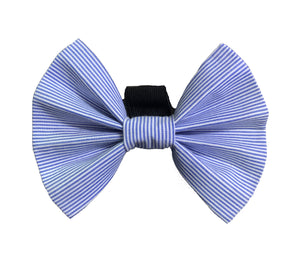 Your pets can flaunt the Back to Basics bow tie at a casual outing, for a formal get together or wear it comfortably at home too. If you're looking for cat or dog accessories, pick this bow tie now! This dog bow tie is loved for its classic blue stripes and a very proper finishing which makes it perfect for an outing for your pet too.
If you're looking for a blue bow tie for your dog or cat, this is it! One can never go wrong with stripes and no matter what the reason or season, stripes are always in fashion. So go on, pick this smart bow tie for your pet's wardrobe today. It is also easy on the pocket and is made of good quality Cotton fabric for your pet's comfort. 
All our detachable bow ties have a stretchable band at the back and can be easily put around your pet's current collar/harness. You can also check out this Tuxedo Collar Set perfect for weddings and festive celebrations.
Each purchase helps contributes towards vaccinations of homeless animals.